Регистрация на конференцию продлена до 1 сентября 2023 года
Регистрация на III Международную научно-практическую конференцию «Орлы Палеарктики: изучение и охрана» продлена до 1 сентября 2023 года.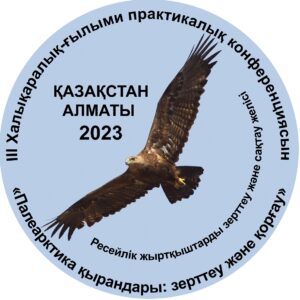 24-29 сентября 2023 г. Russian Raptor Research and Consevation Network, Общественный фонд «Центр изучения и сохранения биоразнообразия» (BRCC), Казахстанская ассоциация сохранения биоразнообразия, Союз охраны птиц Казахстана и  Общество охраны птиц Венгрии при поддержке Фонда взаимопонимания (TMU), Проекта «Алтай», Проекта Фонда природы LIFE ЕС по паннонской популяции солнечного орла, Союза охраны природы и биоразнообразия (NABU) (Германия) и ООО «Сибирский экологический центр» проводят III Mеждународную научно-практическую конференцию «Орлы Палеарктики: изучение и охрана».
Цель конференции – обсудить текущую ситуацию, негативные факторы и методы изучения и сохранения орлов, а также предложить стратегию охраны наиболее уязвимых видов.
Conference location Almaty, Kazakhstan
Format: Part-time - in agreement with the organizing committee for individual speakers, reports will be broadcast online.
Working languages: English, Russian, Kazakh (simultaneous translation will be provided).
Приглашаем всех, чьи работы соответствуют тематике, принять участие в конференции с докладами (пленарными – до 20 мин., секционные – до 15 мин.) или стендовыми сообщениями. 
Подробную информацию читайте в информационном письме:
II-2023-Infomation_letter_Eagles-Palearctic-Conference-eng-2[1]
II-2023-Infomation_letter_Eagles-Palearctic-Conference-rus[1]